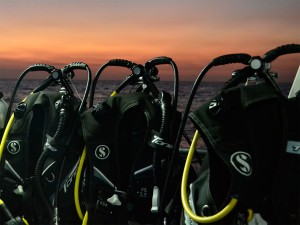 Scuba diving equipment
With out some equipment to help us dive we are going to have a very bad time chasing Whale Sharks or Manta Rays, with a BCD a Regulator, a mask and some fins our day is going to get a lot better. Diving equipment, is not included in the package prices, you have to rent it separately for the duration of the trip you book.
The reason it is not included in your package price is that many liveaboard divers have and travel with their own diving equipment, so why pay for something you are not using? Renting your equipment independently of the trip price helps keep the price of the liveaboard packages nice and low.
To make things as simple as possible, we of course offer gear rental, so when making a booking, we will definitely ask you to let us know exactly which pieces of equipment you will need. Weight Belts, Weights, Surface Marker Buoy & Tanks are included. So if you have absolutely zero bits of your own equipment, this is what you need to rent and how much it will cost per day.
Read more